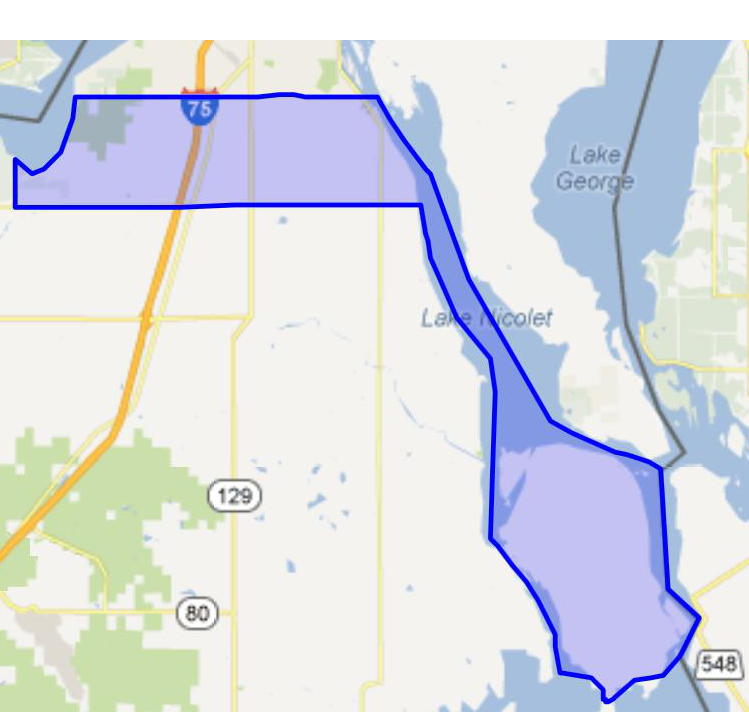 A warm friendly place to live and raise a family, Soo Township is a quiet community located in the farthest portion of the eastern Upper Peninsula of Michigan. Soo Township is bordered on the east by the beautiful St. Mary's River. A small park is located at the end of Four Mile Road, where you can come with your lawn chairs and watch the massive lake freighters and ocean vessels prepare for their approach to the famous Soo Locks or continue on their journey towards southern ports. You can also launch kayaks at the Four Mile Beach. In the fall, many like to just come and view the spectacular fall colors located across the river on Sugar Island while watching the ships. Soo Township also includes Neebish Island; located on the St. Mary's River that connects Lake Superior and Lake Huron. Upon landing on the Island, you are greeted by beautiful gardens that are maintained by the residents. The Island has its own Community Center and also property to purchase. Many residents live year round on the Island. Soo Township has an all volunteer fire department, both on the mainland and Neebish Island. The historical Pine Grove Cemetery is also located in Soo Township. A Columbarium has recently been purchased with niches available. The cemetery is beautifully maintained with lots available.
---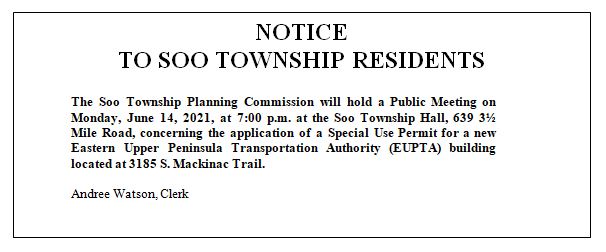 ---



For current and up-to-date state of Michigan Environmental information go to: MI ENVIRONMENT

If you have not responded to the US 2020 Census, Soo Township wants to encourage you to do so. You can go to US Census 2020.


---



Notice:

SOO TOWNSHIP FIRE DEPARTMENT IS SEEKING VOLUNTEER FIREMEN. ALL INTERESTED APPLICANTS PLEASE PRINT AND COMPLETE THE LINKED APPLICATION AND RETURN IT TO JEFF KILLIPS, FIRECHIEF, 639 3 1/2 MILE ROAD, SAULT STE. MARIE, MICHIGAN.