Soo Township News and Notices
---
The November Planning Commission will meet Tuesday, November 13th at 7:00 pm at the Soo Township Hall, due to the November 6th Election.
---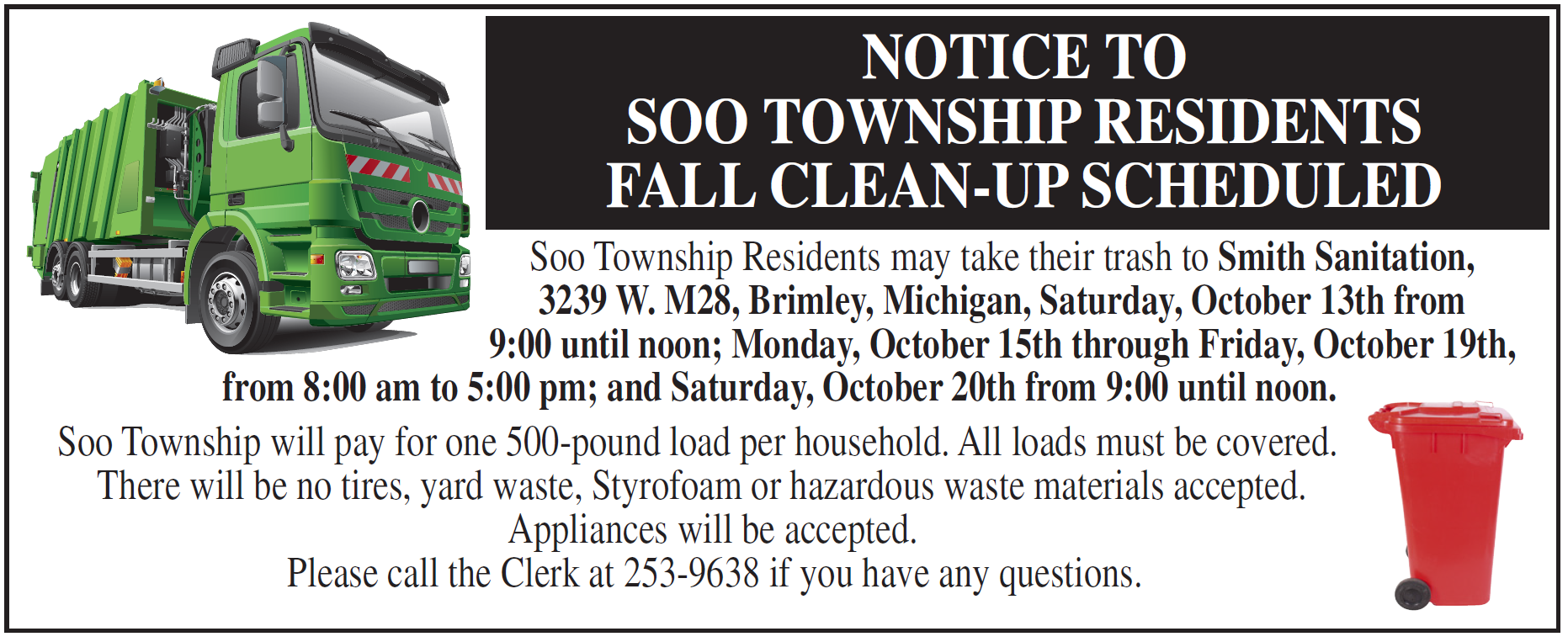 ---
Soo Township Fire Department Annual Barbecue and Open House is Saturday, September 8th from noon to 4:00 pm.
---
Summer tax collection will begin Tuesday, July 3rd from 9:00 am until 1:00 pm and continue each Tuesday from 9:00 am until 1:00 pm and Fridays from 1:00 pm until 5:00 pm. The last day of summer tax collection will be Friday, September 14th from 9:00 am until 5:00 pm.
---
For the fifth year, the Soo Township Board unanimously voted to forego 1% of the total tax bill Administration Fee for the 2018 Tax bills.
---
Ten 10 Spring Clean-up for Soo Township Residents
Soo Township Residents may take their trash to Smith Sanitation, 3239 W. M28, Brimley, Michigan on the following dates:
Saturday, June 9 from 9:00 am - noon
Monday, June 11 through Friday, June 15 from 8:00 am - 5:00 pm
Saturday, June 16 from 9:00 am - noon
---
We have recently added a new feature to our website, the Freedom of Information Act page. This allows you to request information regarding the affairs and official acts of the Soo Township government. You can find the FOIA information on the FOIA link on the right side of the tool bar, or by going directly to this link:
FOIA
.